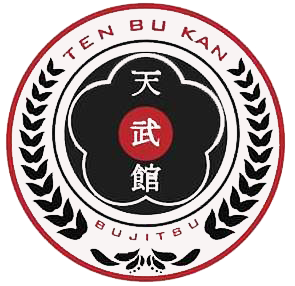 The outer red circle represents the fact that everything returns to its source.

The branches and leaves on the side are from the old style of Motobu paying homage to that lineage. 

TenBuKan – Heavenly Warrior Arts

Bujitsu – Warrior martial arts represented by Shito-ryu, Goshin-Jitsu, Aikijutsu, Iaido, Kenjutsu and Kobudo.

The vertical kanji running down the middle represents the balance of TenBuKan.

The inner circle represents the circular motion found in many of the techniques.

The five sided symbol represents the cherry blossom, an important emblem to the Samurai and the five elements from which we draw our techniques

The Colors Red – Courage




                   White – Purity




                   Black – Maturity

The Sun in the middle representing traditional Japan/Asia as well as the source of life.