After School Program
Serving Etowah Elementary, Mills River Elementary, Glen C. Marlow Elementary, Rugby Middle
Grades K-12
Space is still available!
Monday thru Friday 3 pm to 6 pm
Early Dismissal, Optional Teacher Workdays, Snow Days Covered
Kids with Kick Classes 4 days a week at NO extra charge
Adult Kong Soo Do
Kong Soo Do is both a hard and soft style. The style gets its arts of self-defense from Soo Bahk Do and Tae Kyun, its fighting principles from Northern and Southern Chinese Kung-Fu, and its "moral guidelines" such as philosophy from the Tao, Lao Tzu, and Confucious. The style was created as a traditional, non-competitive style, meaning that the training is primarily directed towards the practice of self-defense, as opposed to its younger sister style of Tae Kwon Do that was created as a sport with its training primarily directed towards competition. Kong Soo Do practitioners strive to always better themselves both outside (physically) and inside (spiritually).
Classes are Monday, Tuesday & Thursday: 6:00-7:30 pm and Tuesday & Thursday: 7:30 – 9:00 pm (upper belts)
White Crane Tai Chi
A low-intensity exercise, Tai Chi enhances balance and body awareness through slow, rhythmic body movements. It teaches proper posture and breathing techniques beneficial to your health. It does not matter your age, sex, size or limitations because anyone can participate. The class is designed to provide a comfortable, relaxing, stress-free environment to aid in a person's growth physically, mentally and spiritually.
Classes are held Tuesday & Thursday from 11:30am-12:30pm
Little Ninjas and Kids with Kick Children's Classes
Little Ninjas (ages 3 to 5) and Kids with Kick (ages 6 to 12)
programs teach two different styles, Kong Soo Do and Hapkido. Both styles are traditional, non-competitive arts with a focus on self-defense. The self-defense is designed with the children in mind. We also teach the students about proper behavior and morals, both inside and outside of the class. The classes are designed to be fun and upbeat yet they are well structured and organized and the students are taught to be disciplined. This will be reflected in the students behavior both at home and school.
Little Ninja Classes are held: Monday & Thursday: 4:00 pm – 4:30 pm  
Kids with Kick classes are held Monday thru Thursday: 5:00 pm – 5:45pm
More Information HERE
Self Defense Classes and Courses
The Self-Defense Classes use simple, yet effective strategies and defenses that will cover a variety of scenarios from standing to prone positions. The classes will be street oriented and practical, using defenses against a variety of attacks. They are open to all genders ages 12 and up.
4-Hour Self Defense Courses

Classes offered:
Basic Self Defense
Advance Self Defense
Weapon Defenses (Empty Hand)
Weapon Defenses (Weapon vs. Weapon)
Weapon Tactics
and more…
Birthday Parties
Birthday Parties!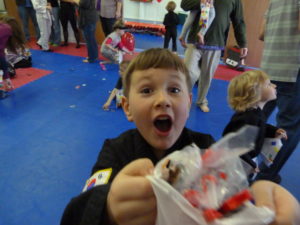 We are pleased to offer a fun alternative to the ordinary birthday party!
$150 per 1.5 hours for up to 15 children
Includes
1/2 hour martial arts class, 1 hour in party space for cake, games and presents!
Food, Cake and Drinks are not included
Call Travis Ginn @ 828-215-6511 or email for availability.